Vanessa of A Fanciful Twist is throwing a virtual tea party (of the costume variety). Because I love Halloween, and dressing up for it (even if I'm always a witch (I'm on the right) or a vampire (tiny bit racy, you've been warned)), I decided that my party would be a Halloween-in-June costume party.


Oh, good; you made it! Charlie (the kitty), Fred (his bony friend) and George the rat (don't worry -- he's rubber) were watching for you. Don't mind the creaking doors and thunder -- it's just a sound effects record. Let me get you some punch and ladyfingers!

While this is a virtual party, a door prize/goody bag awaits a brave soul who makes it to the end and comments. Because I love me some comments and I love me some goody bags!
If you're not already viewing the whole entry, you can click on the picture or the link below to open up the whole thing.
You can't have a tea party without a

teddy bear

. Here's mine. His name is Mundy Drudge, we found him in Hell; he's had a rough life, but is living it up at our place now. At this very moment, he is not wearing any pants. I don't know why I think that's relevant, but there you have it.

Mundy goes with me on road trips, but otherwise hangs out in my sewing area. Lots of scissors and pins there. Just the way he likes things.


I was kind of kidding about the punch and ladyfingers. I do have refreshments, though:

Piña Ghouladas

(regular & virgin) and

Eyeball Martinis

.

Have a cupcake. Really, if you don't eat at least one, then I'll have to have two. Or three.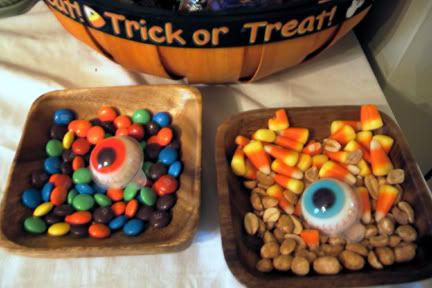 Munchies?

If you eat candy corn and dry roasted peanuts together, they taste like a Payday candy bar.


I'm finally to the

costume

part of the costume party. I am dressed as an olde-tyme Renaissance witch/crone. Okay, I'm a wench with a witch hat. But it's a cool hat, yes? I overspent on it a little, so it will be part of any costume for many seasons to come.

Prior to the purchase of the fancy hat, I tried (within reason) to be "period" (historically accurate), but threw all caution to the wind after this. My best friend has the same hat, except in black, and we have all kinds of fun pushing the envelope. I added patches to my beloved but stained chartreuse skirt and made an apron with big pockets (for my knitting). Of course, when one is in one's home, entertaining guests at a costume party, one doesn't have to worry about silly things like accuracy. It's all about the party!


Thanks so much for coming to my party! I hope you had a good time. I'll be drawing from the comments for the door prize on Monday.

I regret that I can only ship within the US & Canada. I will have to modify a package that goes overseas, okay? To make sure it's all legal.



Note:

I don't know what it will like look yet - hopefully even cuter than the ones up top, which were for a swap last year.

The drawing is closed. I'll post the winner on Monday evening.